Dear Bitdeer User,
To Better serve BitDeer users, BitDeer launches cloud mining & cloud hosting Spring Festival activities to help miners strive in the bull market.
Benefit 1: S19 Cloud Mining Plans - Rewards up to $4216
From now on, you will get free mining days when placing an order. The earlier you place an order, the more free days you can get, up to 36 days!
Event time: March 25 03:00 -March 31 16:00 (UTC+0)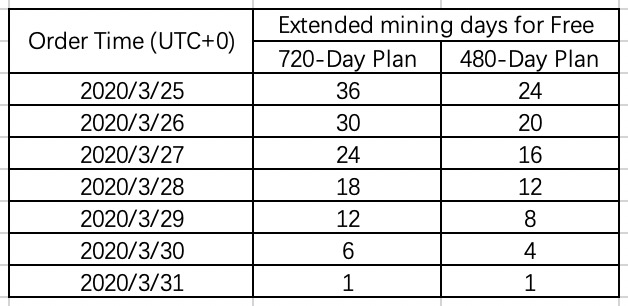 Note:
1. Free mining days are presented directly on the order page. The hashrate fee for the FREE for extended days, the electricity fee shall be paid by customers.
2. The above gifts are applicable to 480-day 720-day plans.
Benefit 2: Cloud Hosting Re-launch on March 25 - Bulk Stock on Sale~
Cloud hosting - is expected to open for group-buying hosting on March 25!
Group-buying time: March 25 7:00 (UTC+0)
Miner: S17+
Mining farm: Compliance Mining Farm in US
Payment method: USDT
Important Tips:
This cloud hosting group payment method only supports USDT, which helps users to make more precise purchases. Please prepare enough USDT in advance. Pay with MatrixPort Wallet for easier payment!
Bitdeer reserves the final right of the final interpretation.
For any queries or concerns, please feel free to contact the Bitdeer service team: [email protected]
Bitdeer Team
March 25, 2021